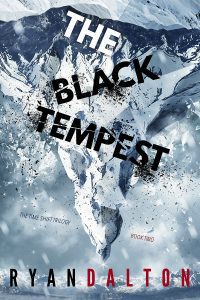 People of Earth! Do you like books? Do you like free books even more? How about free books before the official release? If that sounds like your thing, have I got a contest for you.
I'm giving away 5 signed ARCs (Advance Reader Copies) of THE BLACK TEMPEST, Book Two of the Time Shift Trilogy.
Official publication date is April 25, but you can get one now. How? By being a super awesome book lover. For this contest you can earn multiple entries, giving you multiple chances to win. Here are all the ways you can earn entries:
• Buy The Year of Lightning. Every copy purchased counts as 1 entry. This applies retroactively, so if you have ever bought The Year of Lightning, you get an entry.
• Post a review of The Year of Lightning (Amazon, GoodReads, BN.com, etc). Also applies retroactively.
• Refer a friend. Tell a friend about the series and how much more awesome their life will be with these books in it. Every friend you tell, that's 1 entry.
• If your friend buys The Year of Lightning or preorders The Black Tempest, that's another entry for you (and for them, if they choose to enter the contest).
• Tweet about this contest – 1 entry per tweet
• Facebook about this contest – 1 entry per post or comment
• Instagram about this contest – 1 entry per post or comment
• Blog about this contest – 1 entry per blog post
• Post on Tumblr about this contest – 1 entry per post
• Ask your favorite local bookseller to carry the Time Shift Trilogy – 1 entry for The Year of Lightning and 1 entry for The Black Tempest
• Wild Card – if you choose some other way to spread the word, let me know and I'll count that as an entry, too
You can rack up a ton of entries simply by being a book lover and helping more readers learn about the Time Shift Trilogy.
How do you demonstrate that you've done all these things and win all of your entries?
That's the best part. We're going totally with the honor system here. Book lovers are awesome people, and I trust each of you to tell me accurately what you've done. So you can enter simply by emailing me at RyanDaltonWrites@gmail.com. Give me a rundown of which items you've done from the list above, and based on that you'll get the corresponding number of entries. Also if you have any questions about the contest, feel free to email me or reach out via social media.
The contest starts today and will run through Friday, February 17. I can't wait to see what you do!
Ready? GO!
Share with your friends!
by
by